Pets and A Clean Mattress
This article was written for Pet Guardian Angels of America by Kari Oakley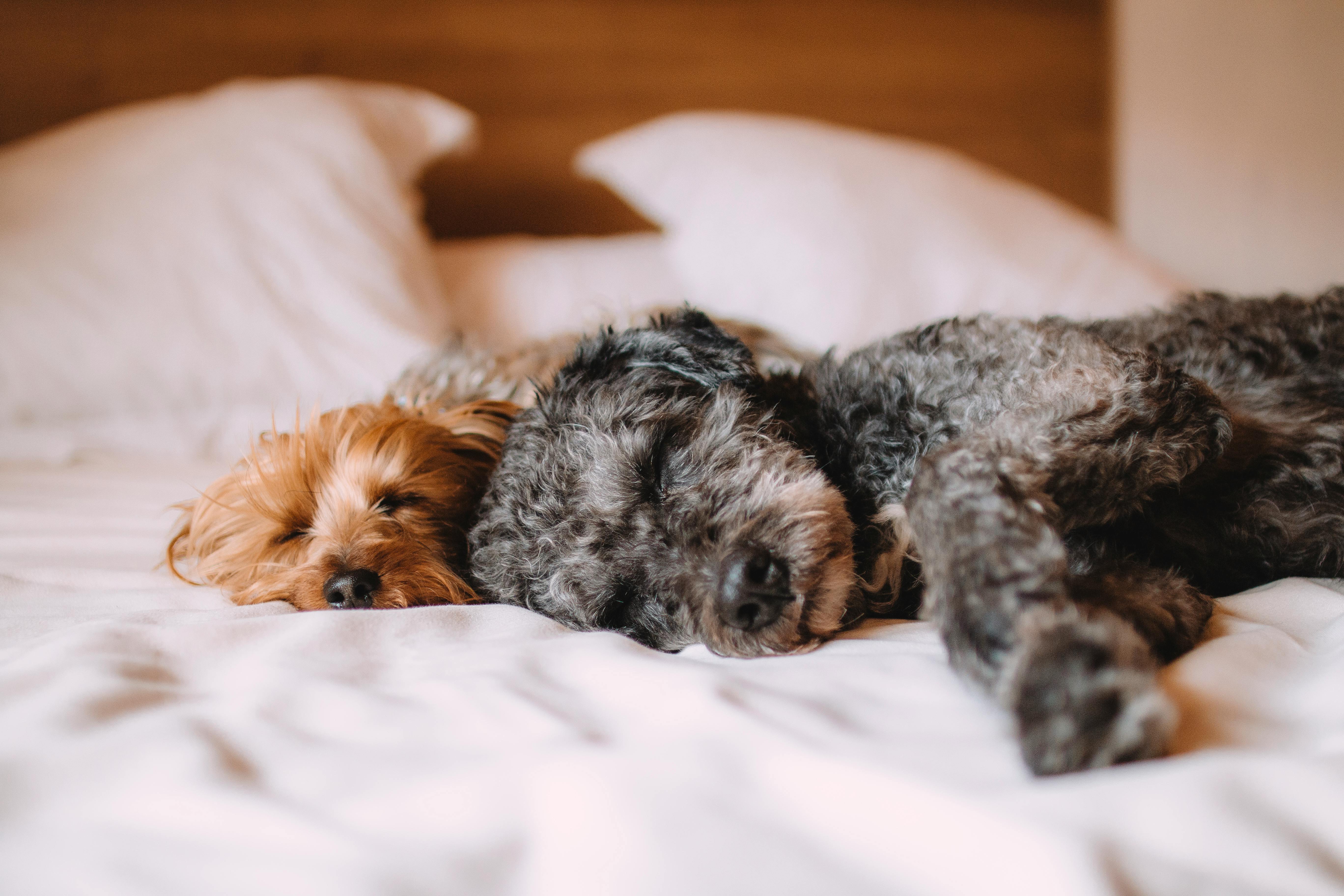 Photo by Pexels
How to Keep your Mattress Clean With Your Pet
Having a pet can be amazing. They can be a new best friend, a source of fun, and a great cuddle buddy. They can be amazing in almost every way besides the cleanliness of your home.  Keeping a house clean with a pet can be a lot. Certain places like a living room can be easy to clean while other spots like a mattress can be harder to clean. This article contains some tips for pet lovers on how to keep a mattress clean while loving a pet.
Routine Mattress Cleaning
For many of us, mattress cleaning is time-consuming and ought to be done at a minimum once a year. One could say, spring cleaning and mattress cleaning go hand and hand. There are many household chores to do around the house but do not neglect cleaning your mattress because it's just as important as your other household chores if not more. After all, a third of
your life is spent in bed. The ideal way to keep your mattress clean and healthy is by way of regular cleaning your mattress. Regular cleaning can help prevent infestation of bed bugs, which can cost you money and a night of peaceful sleep. A mattress is one of your big investment, and it lasts about seven to ten years. However, you can take steps to extend that life to make the most of your investment.
How to clean and sanitize your mattress?
Before you clean your mattress, you should wash your linens. Linens should be washed or change regularly to some that means at least once a week. Clean sheets smell better, are more comfortable, and they will keep dead skin from settling in your mattress. Dead skin is a feast for dust mites. A reduction in dust mites is a vital health matter because some people have asthma, and some people are allergic to dust mites. The water temperature of your wash should be 130 degrees to kill bed bugs and dust mites.
Your mattress should be kept dry at all times to prevent the growth of mildew and mold and to prolong the life of your mattress. Mattress toppers and mattress pads are known to protect mattresses from moisture and stains. The mattress pads and toppers should be washed every few weeks.
If your mattress is wet, it is recommended by professionals to place it near an AC or use a fan to dry it. Sleeping on a damp mattress is also not recommended.
Mattress: Stubborn Stains
There are three types of mattress stains: urine, blood, and other body fluids. Some stains are somewhat more stubborn than others. Much like spills, mattress urine stains can occur. Kids and pets usually leave mattresses messy. Urine stains are tough stains, but they are not impossible to clean once they're dry. Dried stains can be cleaned with enzyme-based cleaners.
There are however easier ways to sanitize urine stains and smells, without harsh cleaners.
How to clean urine from a mattress? The most popular way is to:
-Mix 3 tablespoons of baking soda in 8 oz. of hydrogen peroxide
>Add two drops of liquid soap
-Apply the solution without saturating the mattress
-Let the paste dry for 30 minutes
-Scrape the paste off the mattress then vacuum
To clean blood stains, you can follow the below steps.
-Mix 1 tbsp of liquid soap, 1 tbsp of table salt in ¼ cup of hydrogen peroxide.
-Apply the solution without saturating the mattress.
-Let the paste dry for 30 minutes
-Scrape the paste and then vacuum.
To clean other bodily fluids stains, you should follow the below steps.
-Make sure the room is well ventilated
-Wipe the stain with a rag that has been dip unscented ammonia
-Do not saturate the mattress
-Clean area with a damp cloth
-Sprinkle baking soda
-Let dry and then vacuum.
A clean mattress will make a huge difference to the quality of your sleep and, hence, the quality of your life! Be sure to wash your mattress regularly and then you may rest easy (literally)!
Kari Oakley gained a love for fitness and animals as a young girl in Wisconsin. She spent each summer on some type of adventure, either a day at the lake with her family or just hiking with her friends. She took her love for fitness with her through college to get her degree in Kinesiology (Exercise Science). She has been working as a personal trainer/life coach in the Chicago area for the past 3 years. She has recently decided to share her passions with lower income schools in Chicago to help children develop a knowledge and love for fitness. When Kari started working with the kids in Chicago, she decided she wanted to share her knowledge and passion with as many people as possible. She has been freelance writing alongside ever since.