Achieving Body and Mind Harmony
This article was written for Pet Guardian Angels of America by Anna Medina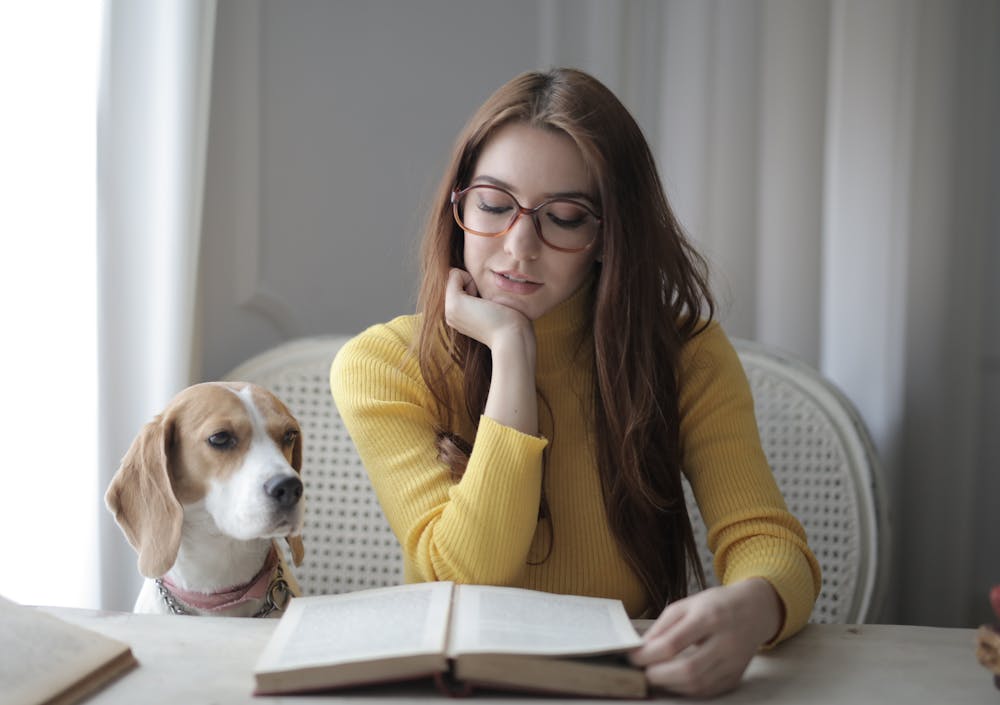 Photo by Pexels
How Dogs Help Copywriters in Achieving Body and Mind Harmony
Dogs are unique creatures that make us happier with the mere fact of their presence in our lives. However, the dog effect also has other unexpected properties. In this article, we decided to analyze how magic dogs influence the work of copywriters and how they help achieve harmony between body and soul, as well as find new sources of inspiration.
Manage Your Time Wisely
Many coaches on self-development and professional success insist that the ability to manage your time is the key to any achievements in life. However, this is a skill that only comes with experience. Moreover, practical life proves that we become more productive and concentrated when we need to complete more tasks in less time.
Be sure that the dog will teach you how to manage your time, because it will require you to follow the regime every day, and it will also need your care and attention. Most likely, with the appearance of the dog in the house, you will forget about the sleep until 12 a.m since instead, you will get up at 7 a.m. to take the dog for a walk. This is five hours of extra time in your life that you can use for productive work instead of sleep or procrastination.
In other words, the dog will help you acquire the right habits and become more disciplined, and rest assured you will like it. And of course, this will positively affect the quality of your work and the ability to meet the deadlines.
Add More Activity to Your Sedentary Lifestyle
A sedentary lifestyle is the most common characteristic for all freelancers and remote workers, including copywriters. Very often, inspiration and love of work make writers sit motionless for a long time and provoke an additional load on the spine, shoulders, and arms.
Do you know what this threatens? A twisted back, a fast heartbeat, pinched muscles, pressure surges, and an inability to take a deep breath are the consequences of a sedentary lifestyle. Fortunately, your dog will make you move, regardless of whether you want it or not.
As a general rule, it is necessary to walk the dog twice a day. However, if you are lucky enough to get a dog of an active breed, for example, a Labrador or a boxer, then be prepared for the fact that you have to walk either three times a day or increase the time of the walk if you walk twice.
Moreover, forget about the opportunity to sit on a bench in the park and read a book while your dog breathes fresh air near you. With an active breed dog, you will run, jump, catch up, throw the ball, or at least walk fast steps over fairly long distances.
So, in this way the dog helps you kill two birds with one stone. You carry out the prevention of spinal disorders due to a sedentary lifestyle, and your dog directs its energy in the right direction. Here is how a dog with the human body may interact.
Become the Main Hero of Your Stories
Have you read Marley and Me? Or maybe you watched this movie? If not, we will make a very short remark. Marley and Me is a story about a Labrador, the worst dog in the world, and about a young family that started with the adoption of a small and sweet puppy. The movie with Jennifer Aniston is a film adaptation, but the book is the primary source based on real events.
In this book, John Grogan talks about his newly created family and restless dog with sparkling humor, with notes of bitter truth, and with great love. Of course, Marley is the central hero, the main instigator of all the stories that are described in the book, and a source of inspiration.
Your dog can do the same for you. No, we do not urge anyone to copy, but if you have something to tell about your life together, why not do it in your free time? You can even create a blog or social network profile dedicated to your dog. With good copywriting skills, this idea has a good chance of becoming a good hobby, and maybe even another source of income.
By the way, if you need help with your current orders to free up some time, you can Pick the Writer on the Writing Judge custom writing reviews service, and outsource non-key tasks.
Make You More Social
Most writers and copywriters are introverts by nature. These are people who in their majority feel comfortable and happy when they share their thoughts, studies, experiences, and observations in writing. Most often, these are people who choose a remote model of work so that excessive interaction with others does not distract them from creativity and reflection.
However, even despite the introverted nature, each person is a social being. We need at least minimal interaction with other people so as not to lose touch with reality. If you are stuck at home, the dog may open up new opportunities for you to meet and interact, for example, while walking, at an exhibition, or at a dog club.
Use these opportunities to make new acquaintances and watch other dog owners, because the world is not limited by the walls of your home office. Making new acquaintances is a good way to exchange energy, change your familiar environment, and even to get a new rush of creative ideas.
Boost Your Mood
When you write a book, you can afford to write only when you really feel that you are ready to create a masterpiece. However, if most of the time you work as a copywriter and write articles ordered by your clients, then this is a bad strategy to wait for the right mood and influx of inspiration.
Customers love that their tasks are carried out efficiently and within the deadlines, which means that you will have to tune in to a working mood on your own. Fortunately, your dog can help you with this task too. Our dogs act as mood boosters. Why do we pet dogs? Because it's enough to look at this cute face, to stroke the soft coat, and hug the dog to feel much better.
The reverse strategy also works. To improve your mood, go for a walk with your dog. Riding a bike or running is another way to cheer up at the chemical level. So, go in for active sports together and upon returning home, you will feel that you are ready to work both physically and mentally.
Feel Your Value Even More
One of the best features of dogs is that they love us unconditionally. Dogs don't care how much you earn, what brands of clothes you buy, which smartphones you use, and what grades you got in college. Dogs love us simply because we are their owners. And the dog's love has healing power. Do dogs have a brain? Surely, yes, as well as an open soul capable of unconditional love.
Dogs are therapeutic because they love us even when it seems to us that no one else in the world loves us. They love us in moments of ups and downs, in moments of errors and awareness, in moments of stability and uncertainty. Dog's love heals and gives strength to move on, and also helps to realize your value even more. Because you deserve this love. This means that you also deserve everything that you strive for, everything that you want, and will certainly achieve. This is a kind of motivation with the help of love, and it is priceless.
Conclusion
A dog is great happiness and a great responsibility. Moreover, dogs are those creatures that can really help us create better versions of ourselves, become more disciplined and productive, begin to lead a healthy lifestyle, learn to accept and give love, and find inner harmony.
Anna likes writing from her university years. When she graduated from the Interpreters Department, she realized that translation was not so interesting, as writing was. She trains her skills now working as a freelance writer on different topics. Always she does her best in the posts and articles.