This resource was provided to Pet Guardian Angels of America by Cary Teller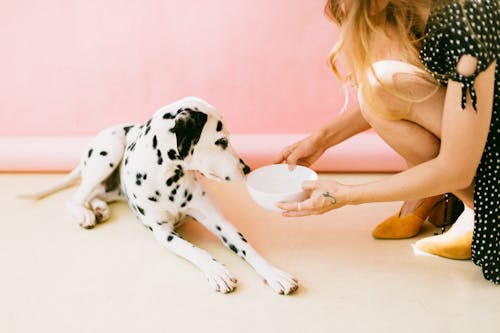 Photo by Pexels
The Current Top Five Dog Food Brands
Part of maintaining your dog's health is ensuring that it gets the best nutrients for its age, height, weight and coat. What dogs need the most is high quality protein along with a few other nutrients. Below is a list of the current top five dog foods from the 2019 dog food reviews . They are rated based on the quality of meat content, lack of mystery meat, a moderate amount of carbohydrates, and a lack of other high risk ingredients.
Instinct Original Dry Dog Food
Instinct Original is available in six recipes, including duck. It is high in protein, which makes it ideal for puppies. Its nutritional value also makes it ideal for adult dogs. It contains chelated minerals for top quality nutrition. Duck is one of the primary ingredients in this brand. Raw duck contains over 70 percent water but this is significantly reduced when cooked. They also contain a high amount of turkey and chicken. The former is approximately 300 percent protein and chicken has a similar rate.
However, one thing to be cautious of is they often do not specify which recipes are best for large breeds. As a result, you will need to ask your veterinarian for a recommendation. They also contain canola oil and dried tomato pomace. Canola oil isn't necessarily toxic to dogs but it's not recommended in large amounts or if you want your dog to consume natural oils. Canola is genetically modified from rapeseed. Tomato pomace is a complicated. It is an excellent source of fiber and antioxidants but is known to cause flatulence.
Wellness Core Grain-Free Dry Dog Food
Wellness Core is rich in both bio meat protein and Omega 3 oils which makes it great for senior dogs and those needing to lose weight. However, there are options available for puppies and senior dogs. It is strictly grain-free and does not contain any rice, wheat, or corn. It does, however, contain a bit of gluten-free potato, ground-dried potatoes, flaxseed, and tomato pomace. Its primary ingredient, however, is chicken.
Dr. Tim's Dry Dog Food
If your dog is a picky eater, this is what Dr. Tim's specializes in. Dr. Tim's offers multiple flavors and is grain-inclusive as it contains oat groats and dried beet pulp. The former is gluten-free but high in caloric content. The beet pulp is high in fiber as a result of sugar processing. Aside from being high in protein, it also contains probiotics to assist with digestion. If your dog participates in athletic events, there are high energy formulas for that as well.
Taste of the Wild Dry Dog Food
Taste of the Wild tries to remain as natural as it possibly can. It does not contain chemical
preservatives, wheat or corn. If your dog tends to have digestive issues, this is ideal for that as well. Taste of the Wild also contains prebiotics and digestible fiber. Its main ingredients are beef,peas, garbanzo beans, lamb, boar, and omega 3 acids. It does contain canola oil, which as mentioned above, is genetically modified from rapeseed.
Victor Classic Dry Dog Food
The Victor Classic is ideal for puppies and very active dogs. It is also known for being
affordable. It is rich in meat-based protein, is grain-inclusive, and probiotics. Its primary
ingredient is beef meal, which is about 300 percent richer in protein than fresh beef. It also
contains a lot of milo, millet, and chicken fat. However, it does contain several controversial ingredients including blood meal, dehydrated alfalfa meal, and vegetable oil.
As demonstrated above, dog food brands are far from being one-size-fits-all. Some are more inclusive of vegetables and grains than others. Some contain digestive aids and others don't. Some are more friendly for puppies while others are more suited to senior dogs. It really depends on your dog's individual needs. Again, it's best to check with a veterinarian as to which brand and ingredients are best for your dog.
"Cary Teller is an Oregon native who loves exploring the outdoors with his trusty sidekick Milo, a 2-year old gorgeous and cuddly mastiff."