This article was written for Pet Guardian Angels of America by Kari Oakley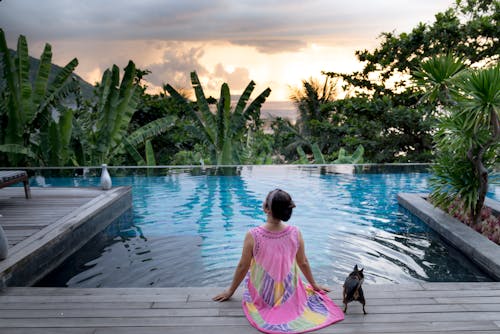 Photo by Pexels
Getting Your Dog a Pool
If you're like most people with a furry family member, your dog typically spends a great deal of his time indoors. There's nothing wrong with your dog spending days indoors. Most dogs require a good amount of sleep and rest, plus there is no greater joy to a dog than being around his
human companions during their daily activities.
However, your dog needs to be in the outdoors. Dogs are naturally curious and it's simply part
of their nature to want to explore the outside environment, especially the backyard that is his own little kingdom. It's your job to do everything you can to make sure that your backyard is an outdoor haven for your dog to run, play and sniff the surroundings that are simply fascinating; no matter how many times he's seen the same backyard. The tips below will help you create a backyard paradise for your pup!
Add Comfortable Outdoor Seating
Your pets are much more likely to enjoy their outdoor time if they can see their beloved human
is within sight. Dogs are especially more likely to exude their playful side and get much more
exercise when they know that their owner is right there watching. Add some type of outdoor
seating in your yard that encourages you to spend time outdoors with your pup. This could be a
cozy Adirondack chair where you can read a good book while your dog sniffs around the yard,
or it could be a lounge chair that lets you relax and soak up summer rays while your pup plays.
Add a Simple Backyard Pond
Building a small pond is much simpler than you may think. Not only does it make your backyard more appealing, but your pooch will also love the opportunity to splash around on hot days. Basically, all you need to do is dig a hole, purchase a plastic pond shell, add water, and add some creative borders for the pond's edge. You can add in a simple pump to keep the water moving and even power a fountain.
Don't Rule Out Artificial Grass
Many people overlook the benefits of utilizing artificial grass in their yard. However, if you have multiple dogs, using artificial grass could be one of the best decisions you ever make. While artificial grass in the front yard tends to look awkward in direct comparison to your neighbors' real grass, the backyard is a great place for it. Not only does it require literally zero upkeep, but it's also completely dog-proof. There's no way that your pup will tear up your grass, dig holes or get muddy on a rainy day.
Create a Pest-Free Environment
Warmer months bring bugs that are more than excited to invade your yard and jump all over
your pup. Keep your yard healthy for your dog by turning to a professional pest control company
in Twinsburg to treat your grass and protect your furry friends from pests that can become
harmful or spread inside your home.
Get Secure Fencing
This may be obvious, but dogs love to explore beyond the borders of their residential backyard, and they will typically find a way out if there is one. Unless your dog is exceptionally well-trained, it is your responsibility to make sure your dog has a fence to contain his backyard play place. Remember, proper fencing isn't just to keep your dog contained, it contributes to their protection and your home security. Dogs without a proper fence could be attacked by another dog or animal, escape and run into oncoming traffic, damage a neighbor's property, or even get you hit with a hefty fine for breaking local leash laws. Putting up a fence for your pup is an investment that will pay off handsomely through your peace of mind. If you can't put up a fence for any reason, consider adding a dog run to give your pooch some freedom.
Kari Oakley gained a love for fitness and animals as a young girl in Wisconsin. She spent each summer on some type of adventure, either a day at the lake with her family or just hiking with her friends. She took her love for fitness with her through college to get her degree in Kinesiology (Exercise Science). She has been working as a personal trainer/life coach in the Chicago area for the past 3 years. She has recently decided to share her passions with lower income schools in Chicago to help children develop a knowledge and love for fitness. When Kari started working with the kids in Chicago, she decided she wanted to share her knowledge and passion with as many people as possible. She has been freelance writing alongside ever since.