This article was written for Pet Guardian Angels of America by Kari Oakley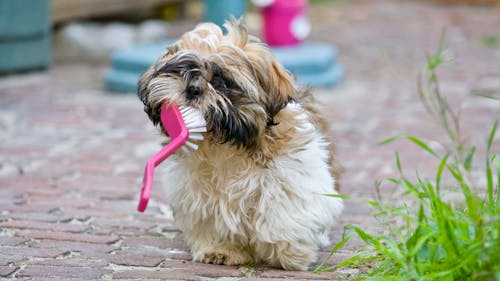 Photo by Pexels
Tips for Keeping Your Dog Healthy
Our pets depend on us to take care of them and meet all of their needs. They provide us with so much affection and companionship, and they deserve to be treated the best that we can. Make sure that you are taking the necessary steps to care for your dog and keep them healthy.
Vet Visits
You should take your dog to the veterinarian at least once per year for a regular check-up and monitor their health. The vet can help you to identify any potential problems that your dog may have and show you how to monitor any health concerns. If your dog has any health issues, the veterinarian can prescribe any medication that your dog may need to help them manage symptoms and improve. It's also important that you keep your dog up-to-date with all of their shots.
Basic Needs
Your dog depends on you for everything, so make sure you provide them with the best. Your dog should always have dry, clean bedding and access to shelter to get out of inclement weather. This should include adequate shade from harsh sunlight and heat. Your dog also needs to have a supply of fresh, clean water available at all times and high-quality food. Your veterinarian can help you to select the right type of food for your dog. There are varieties that are specially formulated for pets that need help with weight control, and those for puppies, and senior dogs. Another important part of keeping your dog healthy is to ensure that they get plenty of exercise and playtime. Walk your dog regularly and try to incorporate other forms of exercise as well. Your dog also needs some time to play. Frequently engage in activities that provide stimulation to keep him or her from becoming bored.
Hygiene and Grooming
Make sure that you bathe your dog regularly to keep their skin and coat healthy. Brush their fur to keep their coat free of tangles and to help control any shedding. This is also a good time to check them for fleas or ticks that could need treatment. You also need to keep your pet's nails trimmed back to a comfortable length. Nail trimmer's are available to purchase if you choose to do this yourself, or you can go to a groomer or vet.
Pay special attention to the health of your dog's eyes, ears, nose, and teeth. Any sudden changes should be reported to your veterinarian. Eyes should be bright and clear, ears should be free of any swelling or redness, and teeth and gums should look healthy without build-up or bad breath.
Supplements
If your dog has a special health care need or if they are getting older or have a weight management problem you can consider adding a supplement. There are lots of supplements, such as ProPower Plus that will help keep your dog in optimal health.
Consider adding supplements to support digestion and to keep joints moving smoothly. There are good options to keep skin clear and supple and promote a shiny, thick coat.
Note Unusual Symptoms
Along with regular care, make sure to monitor any changes that you notice in your dog. A sudden change in eating habits, heartbeat, rapid breathing, and even a change in waste elimination can alert you to a potential problem. While many of these symptoms are usually short term and nothing to worry about, if you notice a severe symptom or one that lasts doesn't go away quickly, it's best to contact your vet and see what they recommend for further treatment.
Keeping your pet healthy is a great concern for many people, as our pets are our closest companions and best friends. We want to make sure that they're taken care of and healthy. Spend lots of time with your pet and shower them with love and affection. Pay close attention to their needs to help ensure that they have a long and happy life.
Kari Oakley gained a love for fitness and animals as a young girl in Wisconsin. She spent each summer on some type of adventure, either a day at the lake with her family or just hiking with her friends. She took her love for fitness with her through college to get her degree in Kinesiology (Exercise Science). She has been working as a personal trainer/life coach in the Chicago area for the past 3 years. She has recently decided to share her passions with lower income schools in Chicago to help children develop a knowledge and love for fitness. When Kari started working with the kids in Chicago, she decided she wanted to share her knowledge and passion with as many people as possible. She has been freelance writing alongside ever since.