Living With The Golden Retriever
This article was submitted to Pet Guardian Angels of America by Richard Thomas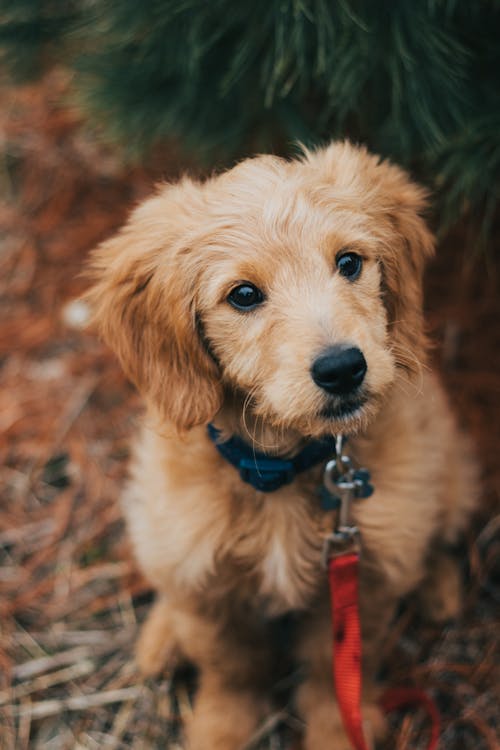 Photo by Pexels
How do I keep my golden retriever puppy entertained?
Have you ever noticed the golden retriever? Have you seen how good looking he is? Well, the golden retriever is a large, energetic, golden and glossy colored coat dog that looks so loving and glamorous itself.
After getting a golden retriever, you need to know what you should do with him. It's important to take care of him but above all, you also should know the mental health of your golden retriever. And to take proper care and keep him jolly, you need to entertain him.
But how will you do that? It might be a matter of confusion. And to solve it, let's dive into the section where you can find different ideas of entertaining the golden retriever. Let's see what they are and how these things work.
Regular exercises
We all know that a human being needs to take physical exercise regularly. Just like that, dogs also need to take exercise. As golden retrievers are energetic dogs, it will be easier for you to make him involve exercises on a regular basis.
Make sure you take your golden retriever to a brisk walk for at least 20-30 minutes twice a day. Also, you should play different games with him. It's a simple way to entertain the golden retriever easily.
Play fetch
The golden retriever is the kind of dog who loves to play fetch. So, you can play fetch with your doggo to make him busy. Get some balls like tennis balls or Frisbees to play fetch with him. This kind of game will be interesting for them because they have to give their full attention to it and give their eyes on that thing to fetch rightly.
This game is interesting as well as effective to make the dog stronger, jolly and also keep him entertained. So, you must play with your dog and play fetch to improve the mental stability of your golden retriever.
Give rewards
Who doesn't love to get rewards? I think everyone does and it's important to know that the dogs are the same. Dogs are helpful and thus he wants to get some rewards in return. Or he has no expectation form anyone but if he gets one he will be happy and encouraged.
That's why treat your dog well when he does something good. It's a kind of way to appreciate him for his kindness. And when he gets that appreciation from you, he will get more courageous to do good things. This trick is kind of a way to teach him good manners. Moreover, it's also a matter of entertainment for him. So, we must try this trick to your golden retriever and make him busy and jolly.
Groom and brush
Grooming and brushing the golden retriever is another way to keep them entertained. This technique might not be a method of entertainment for all the golden retrievers but for some dogs, these techniques are very relaxing and entertaining.
As golden retrievers have long coats, they need to be brushed and groomed well. Some dogs have straight and some dogs have wavy coats on their body. Though most of those breeds are having long hair so they need to be groomed and brushed regularly. Most of the dogs enjoyed it as its very relaxing for them. So, you should try this method for giving your dog a relaxing mood.
Swimming
When it's about golden retrievers, they are amazing swimmers. That's why you have to find excuses to let your golden retriever go swimming. If you have a pool then it's good. You can make him go swimming in the pool when he has a good mood. And if you haven't any pool, you can go to any sea or river or even in the bathtub.
The process is easy to execute and it can make the mood of your doggy very jolly and happy. Just make sure the whole process is being executed in a safe way.
Give toys
There are lots of toys for dogs available in the market. There are also some chewing toys for golden retriever. You can shop online or in the market around you. You can buy for your dogs and it will be a great idea to keep your dog busy and also entertained.
Golden retrievers are very intelligent dogs. That's why you have been sure if you are giving your dog enough stimulating toys or not. The reason is it will keep your dog happy. So, try this idea to keep your dog entertained enough.
Teaching your golden retriever
Dogs need to be taught well just like the human being need. Keep training your dog and acknowledge them with new ideas is necessary and also a matter of joy to them. The reason is that dogs are fond of new things. It will be great fun for them if you teach them about different things by playing with them. So, try to do that to train your dog well and to make him a skilled one.
Give puzzles
Giving puzzles and "problem-solving" games is one of the interesting games of all. As mentioned before, golden retrievers are very intelligent in nature. So giving them games like this will be a matter of thinking because they have to really work for it. That's why you have been very careful about game selecting for your dog but overall "problem-solving" games are the best of all.
Tips
1. Keep in mind that the younger ones need more exercise than the older ones.
2. When you play fetch, make sure you choose a safe area to play.
3. Make sure your golden retriever would not get distracted with any kind of animal or bird while playing.
4. Before brushing, make sure the brush is not harsh on the skin.
5. Make sure you won't give the same toy every day. Try to swap it out.
Wrap Up
There's a lot of technique you can find out for your loving dog. But you have to be sure if the ideas are safe for your golden retriever or not. It is because safety comes first. Nothing is more important than the safety of your dog. So, be sure about it first and then choose a different method that can make your golden retriever entertained.
Keep loving your doggo, make sure his mental health is fine and make him happy. That's all!