Water Safety and Your Dog
This article was written for Pet Guardian Angels of America by Jenn Lee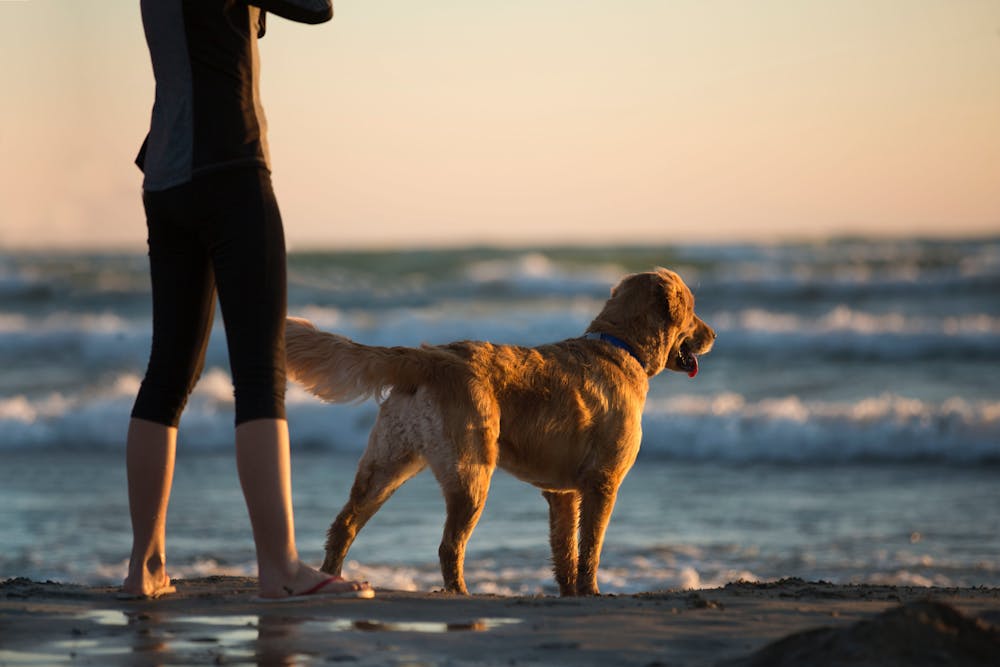 Photo by Pexels
Water Safety Tips for Your Dog
There is no question that water can be a great source of fun for you and your dog. But, before you take your dog out for a paddle or even near your pool, you need to make sure you know how to keep them safe.
Visiting the Beach
Going to the beach can be a lot of fun for any dog. While you are enjoying the surf with your four-legged friend, make sure you keep a few things in mind.
For example, you need to watch out for any riptides or strong currents. These may take you both out too far in the water. Even the very best swimmers (this includes you and your pup) can be in danger if the water is too rough.
Also, watch your dog to make sure he does not drink any of the ocean water. It may make them sick. Take along fresh H2O so you and your dog remain hydrated. If you see any fish washed up on shore, don't let your dog get too close. While they may smell good to him, they can also make him sick.
Swimming
When you have decided to reach out to and have a pool installed in your backyard, you may think your dog will be a natural-born swimmer. Unfortunately, this is not always the case. There is no sure way to determine the swimming skills your pup has until you have introduced them to water and taught him the basics.
To get started, use these tips:
Find a shallow and quiet area in the water
Keep your dog on a leash while they are learning
Get into the water with them
Start near the water's edge and stay if your dog is enjoying it
Do not force your dog to get in
The younger your dog is when you teach them to swim, the better. Make sure to keep the swimming lesson stress-free and positive.
Swimming Safety In and Around the Pool
Do you have a pool or swimming hole near your house? If so, you need to make sure you make it dog-friendly.
It is a good idea to put up a fence to keep your dog out of the area when they should not be swimming. You also need to invest in a sturdy cover if you aren't using the water. Be sure you choose a material that will allow rainwater to go through it. A dog can drown in a puddle that is formed on top of a pool cover.
Take time to teach your dog how to get into and out of the pool. Install a ramp or steps they can use to climb out. Before your dog gets in the water, be sure you check the temperature. There are only a few breeds that can handle water that is extremely cold.
General Water-Safety Rules for Dogs
It doesn't matter where you and your pup decide to go swimming, there are a few general safety rules that apply. You need to rinse the dog off after they are in any type of water because pollution, algae, chlorine, salt, and seawater minerals can damage or irritate the dog's fur and skin. Also, remove your dog's flea collar before they go swimming. The water may wash off the active ingredients.
Be sure to dry your dog's ears fully when they get out of the water. Failure to do this may lead to an infection. It is a good idea to invest in an ear cleaner, which will also help to dry the ears. If you are worried about what may happen to your dog, learn canine CPR.
If you want to enjoy the water with your pet, just make sure you will both be safe. With the tips and information here, you can feel confident that your dog will be able to enjoy the water and that they won't suffer any serious issue or injury.
Jenn Lee, is a family blogger and proud parent of Reggie the Golden Retriever .